Foreword: WOW. FINALLY finished with this game. Yes, I know it was ridiculously long since my last review, but I just finished my exams and now I have to work my behind off just so I can get by everyday and eat cereal in the morning T_T;
Hopefully, I still get through with the upcoming games… Or else I'll see my "to-play" pile becoming bigger and bigger XD
Right onto the review! Frankly, all my experience with Alcot came from its one title, named "My Girlfriend is the President". As people would know, I hated that game. Parody that's not even funny, protagonist is a wimp that has nothing special about him, and the list goes on and on. In fact, I hated it so much that I refused to even consider this game at all at first. Thankfully, some of my friends gave me a slap-in-the-face and brought me back to sanity.
A game definitely worth your time, Clover Day's is not your average charage: filled with climactic stories (although it does have its own flaws), it's rather unfortunate that the game loses points in the end for not containing a solid theme. Nonetheless, it scores higher than many other games, and is worthy of being one of my most recommended titles.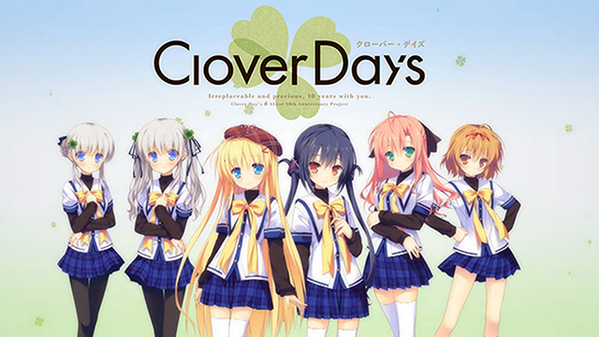 Title: Clover Day's
Producers: Alcot
Release Date: March 28, 2014
VNDB Link: http://vndb.org/v13325
Getchu Link: http://www.getchu.com/soft.phtml?id=783217
Game Type: Slice of Life Romance Comedy involving "Twins"
Summary: Yuuto is the adopted heir to the Takakura family, who only has a twin girls as the successor. Perhaps because of this, his foster father picked him up while he was in an orphanage in England, and brought him back to Japan to become the successor to the family. All this happened over 10 years ago, when his childhood was filled with memories of his friends and imouto that supported him all the way. He vowed to become more strong and independent for these friends, and dreams of the day they will all be reunited.
In fact, that very dream happens unexpectedly, with Hekiru and Hikaru returning suddenly. This event is followed by Hekiru kissing Yuuto and asking him for marriage, which incites the rest of the childhood friend group. Yuuto's future is like a four-leaf clover: a symbol of good luck and happiness.
(more…)